Royal Weddings in India
Royal wedding is not a new phenomenon in India. These are the weddings envied by many and enjoyed by a select few. People from all corners of the world desire to tie the nuptial knots in a regal style on the wonderful land of India. India, with centuries of Royal rule is one of the most important contenders for royal wedding. With well restored palaces of royal past the couples have a chance to live out their long cherished dream on their fairytale weddings.
Overview
A wedding is one of the most sanctified and special event of one's life. Most of us dream about the most charming and splendid weddings. For people who believe in grandeur and marvelous celebrations, Royal weddings are one of the best options. India with its rich cultural heritage and varied ethnicity is the hub for royal weddings. In fact, Royal Weddings in India is quite popular with people all around the world.
Ideal Locations
India is a land of celebration and festivities. Indian weddings are extravagant events, where people celebrate the new beginning in their life. Royal Weddings in India can be arranged for anywhere in India, right from the palaces in Rajasthan to the marvelous temples in South India. Royal Weddings in India thus, is one of the best manner in which a couple can celebrate this wonderful phase in life.
Rajasthan however, is one of the most preferred destinations, when it comes to Royal Weddings in India. Rajasthan houses several forts and palaces, which serve as perfect venues for Royal Weddings. Everything is organized in a way so as to provide an essence of royalty to both the parties. Some of the popular Royal Wedding destinations in India include Jaipur, Jaisalmer, and Jodhpur amongst many others.
Special features
Everything, from accommodation to dining is taken care of, with absolute perfection. Apart from this, arrangements for post wedding celebrations and honeymoon are also made. Royal Weddings in India is just the right way to celebrate the most important moment in your life.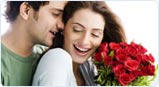 Palace weddings in India are hot favorite among couples who want to tie the nuptial knots in a royal manner. The glittering wedding ceremony reaches a new high on royal weddings in India.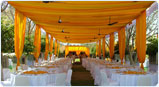 The royal land of Rajasthan is an ideal venue for weddings. And palace weddings in Devigarh still hold its charm. This palace in the Udaipur district is set amidst magnificent Aravalli hills.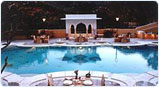 Situated at a short driving distance from Jaipur, the small town of Samode houses a magnificent palace to tie the knots. And Palace weddings in Samode are getting popularity among Indian and foreign couples.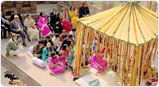 Stunningly tucked amidst the Aravalli hills, this oldest heritage palace in India is perfect venue for weddings. Couples even cross the barrier of seven seas for their palace weddings in Neemrana.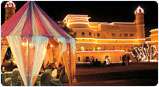 This former hunting lodge of royals is now one of the most sought after wedding venues in India. Palace weddings in Sariska Palace are royal ways to get hitched in a regal set up.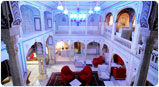 This elegantly fortified palace is one of the few places in India which is still holding its regal aura. And Palace weddings in Chomu palace are ideal ways to relive those moments of royal era.